Teacher Appreciation T-Shirts And Gifts
Teacher Appreciation week is in the month of May and is traditionally celebrated on the first full week in May. Teachers are kind and patient and play a big role in the lives of our children. Teacher Appreciation T-Shirts and Gifts is a great way to show our Teachers how much we care.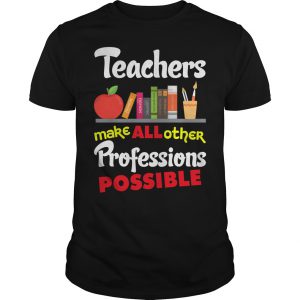 Let's say Thank You to the exceptional teachers that you know. Let them know that they are appreciated for all that they do on National Teacher Appreciation Day, with gifts for teacher appreciation week.
Several Styles and Colors Available
Most of the shirt designs below are available in women's and men's sizes, and some are available in youth sizes as well. Many of these Teacher Appreciation T-shirts and Gifts come in other styles including hoodies, sweatshirts and long sleeve tees.
Teacher Appreciation T-Shirts And Gifts
Below are some funny and cute Teacher gift ideas from Hoodies, Leggings and Canvas Prints. Just click on any of the T-Shirts or gifts you are interested in for style and color choices for him and her.

More Teacher Appreciation T-Shirts And Gifts To Choose From

This is just a small display of the many Teacher Appreciation Shirts that are available. You can find a wide variety of Teacher tees and hoodies in your favorite sizes and colors.
Click the link below to browse the Teacher Appreciation Collection.