Coffee Lovers T-Shirts
Do you love Coffee and drink it to start your day? Many people around the world drink coffee in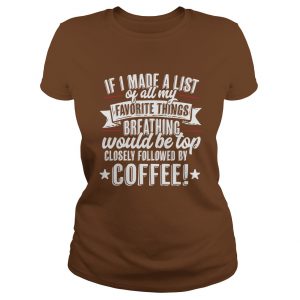 the morning or anytime of the day for the caffeine and the love they have for coffee. If this sounds like you then these Coffee Lovers T-Shirts will be a perfect fit.
Our shirt featured off to the side is one of our favorites and says If I Made A List Of All My Favorite Things Breathing Would Be Top Closely Followed By Coffee!
Funny that this hot or cold beverage is a brewed drink that is roasted from a coffee bean, which comes from seeds of a coffee plant.
Do you know someone that loves coffee and needs that perfect gift? These Coffee Lovers Shirts make a great gift for men, women and children. There are a variety of colors and styles to choose from. Many of these t-shirts come in hoodies as well.
Coffee Lover T-Shirts
Below are some funny and cute Coffee Lover Shirts. Just click on any of the T-Shirts you are interested in for style and color choices for him and her.

More Coffee Lover T-Shirts to Choose From

This is just a small display of the many Coffee Lover Shirts that are available. You can find a wide variety of Coffee tees and hoodies in your favorite sizes and colors.
Click the link below to browse the Coffee Lovers Collection.