Armed Forces Shirts – Armed Forces Apparel
The United States Armed Forces consist of five armed branches. From the Navy, Army, Air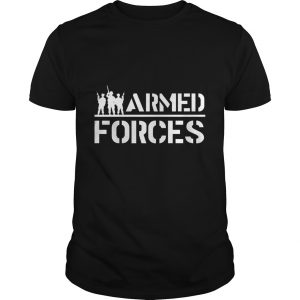 Force, Marine Corps and Coast Guard. Most of us know someone that is serving in one of the branches or know someone that has served.
Do you have a family member, son, daughter or friends that serve in one or more of the Armed Forces? Then these Armed Forces Shirts would be a perfect way to show your support by either wearing Armed Forces Apparel yourself or giving Armed Forces Shirts and Hoodies as a gift.
Several Styles and Colors Available
Most of the shirt designs below are available in women's and men's sizes, and some are available in youth sizes as well. Many of these Armed Forces T-shirts come in other styles including hoodies, sweatshirts, long sleeve tees, leggings and coffee mugs.
Armed Forces Shirts – Armed Forces Apparel
Below are many different Armed Forces Shirts. Just click on any of the T-Shirts you are interested in for style and color choices for him and her.

More Cool Armed Forces T-Shirts to Choose From

This is just a small display of the many Patriotic Armed Forces Shirts, Hoodies, Leggings and Coffee Mugs that are available. You can find a wide variety of Armed Forces Apparel in your favorite sizes and colors. Click the link below to browse the Armed Forces Collection.