Adventure Awaits Shirts – Cool Tee Shirts
Whether you love to travel to exotic places, go camping, glamping or simply go to the beach,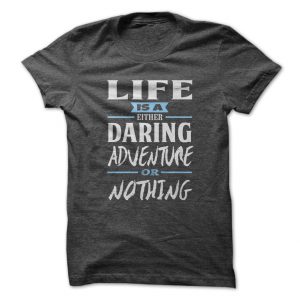 adventure awaits you. Adventure Awaits could mean something different depending on each individual person but when I think of adventure awaits, I imagine where I would like to travel next and add it to my bucket list. Do you love going on adventures and are always looking towards your next trip or family outing? Then these Adventure Awaits Shirts would be the perfect gift idea for you or your loved ones.
"If happiness is the goal – and it should be, then adventures should be top priority." – Richard Branson
Does Adventure Await You?
Several Styles and Colors Available
Most of the shirt designs below are available in women's and men's sizes, and some are available in youth sizes as well. Many of these Adventure Awaits T-shirts come in other styles including hoodies, sweatshirts, long sleeve tees, coffee mugs and leggings.
Adventure Awaits Shirts – Cool Tee Shirts
Below are some funny and cute Adventure Awaits T-Shirts. Just click on any of the Shirts or designs you are interested in for style and color choices for him and her.

More Adventure Awaits Shirts To Choose From

This is just a small display of the many Adventure Awaits Shirts that are available. You can find a wide variety of Adventure Time tees, hoodies and coffee mugs in your favorite sizes and colors.
Click the link below to browse the Adventure Awaits Collection.